COME, FOLLOW ME!
"God declares I think of you and I have plans for you, prosperity and a future filled with hope" (Jeremiah 29:11).
I would like you to be free from worry. An unmarried man concerns himself with the Lord's work, because he is trying to please the Lord. But a married man concerns himself with worldly matters because he wants to please his wife; and so he is pulled in two directions. An unmarried woman or a virgin concerns herself with the Lord's work, because she wants to be dedicated both in body and spirit; but a married woman concerns herself with worldly matters because she wants to please her husband. I am saying this because I want to help you. I am not trying to put restrictions on you. Instead I want you to do what is right and proper, and to give yourselves completely to the Lord's service without any reservations. (1 Corinthians 7, 32 – 35).
"The Priest is not a Priest for Himself – he is for you. After God, the Priest is everything" – St. Jean Vianney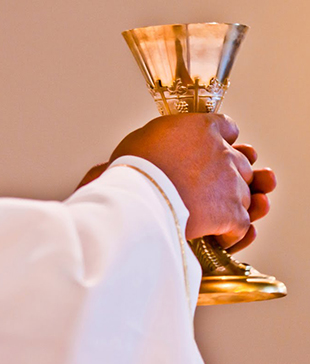 ZVB – Zion
Vocation Bureau
Zion Vocation Bureau (ZVB) is an innovative venture of the Zion Province of NCBS to nurture the cradles of Vocation. ZVB is the body of those who work for fostering and nourishing Vocational Seeds for the Catholic Church through MCBS Zion Province. ZVB is instituted to look after the seeds of vocation sown in the hearts of children through multiple programs. It aims at being the animating nucleus of the vocational ministry of the Province spread across India.

Through Vocation is a personal call from God (Is.43:1), a call to those "whom he desired" (Mk.3.13) to build and plant (Jer. 1:10), it comes not only directly in the depth of human hearts but also ordinarily through human mediations. Therefore, the prime focus of the body is to promote a Vocation culture by identifying, selecting and nourishing vocational seeds in the catholic community.
Vision
Given the complexities and challenges one faces in Pastoral concern for vocations today, no individual facilitator, however competent he/she may be, will be able to respond to his/her ministry adequately. Hence the need for a well motivated and qualified team of animators who can work together to nurture the seeds of Vocations (ZVB) is found an apt-situational approach.
NATURE
ZVB is an animating body functioning under the Zion Province of MCBS, working in collaboration with all the MCBS missionaries to enhance the Provincial pastoral care of Vocations. It consists of clergy, religious, religious brothers of the Province and Laity.
Objective
To discern and care for Vocations
To inspire, stimulate, Co-ordiante, regulate and supplement the work of promoting Vocations
To conduct Vocation retreats, camps, seminars
To maintain regular contacts through prayer, correspondence, family visits etc.
To make the process of selection more professional
To spread the Vocational Nature of the Church
To make promotion of Vocation a participatory venture
To make the members aware of the shared responsibility of Vocation Promotion for the Province
To raise fund for the activities related to Vocation Promotion
To establish a sound relationship with the Dioceses and Parish priests
ZVB – a catalytic agent of Vocation Culture
Creation of Vocation culture means a prayerfully thought-out meticulously planned, scientifically executed and systematically supported creation of an ambience where in the self dedication of people for the service of God is well taken care of. The first phase of the vocation culture is to accept the call to priesthood/religious life as part of the social life. The second phase being the motivational phase, motivates children, youth and their families to consider joining sending to priestly/consecrated vocation as a privilege from God.
| ANIMATORS | ZION MCBS |
| --- | --- |
| Chairman | Very. Rev. Fr. Provincial Superior, MCBS Zion Province, Kozhikode |
| Vice Chairman: | Rev. Fr. Rector, MCBS Minor Seminary, Pariyaram |
| Director: | Vocation Promoter, MCBS Zion Province |
Wherever an integral pastoral ministry – with families, young people or in the mission field – develops and grows together with pastoral ministry for vocations, there is a flowering of priestly vocations and religious life.Thus, the vocational dimension is not simply the adding on of programmes and suggestions, but becomes the natural expression of the whole community…The family remains the primary community for the transmission of the Christian faith. It can be seen everywhere that many vocations to the priesthood and religious life are born in families where the example of a Christian life in keeping with its calling and practice of the evangelical counsels give rise to the desire for complete self-giving. Care for vocations presupposes, inreality, a strong family pastoral ministry…The witness of priests united to Christ ,happy in their ministry and united in brotherhood among themselves, has a strong vocational appeal for young men. (Pastoral Guidelines For Fostering Vocations to Priestly Ministry, Vatican City 2012, par.3).
Are you thinking about where God is calling you in life? Some end-up wherever they land in life, others think, pray, and discern on this topic of vocation. Some are called to the married life, some to the single life, and some to a vocation to the religious life or ordained ministry. If you would like assistance in discerning your vocation, or are curious about where God is calling you, please contact our Vocation Promoter. Our Vocation Promoter will assist you in ways that are beneficial to your needs.
JESUS CALLS YOU...
Want to be a part of it?
Hearty welcome to the Holy Eucharist!
Hearty Welcome to MCBS!
"Lead a life worthy of your calling, for you have been called by" (Ephasians 4:1)
On Vocation – inspirational quotes about vocation
"Each of you has a personal vocation which He has given you for your own joy and sanctity. When a person is conquered by the fire of His gaze, no sacrifice seems too great to follow Him and give Him the best of ourselves. This is what the saints have always done, spreading the light of the Lord … and transforming the world into a welcoming home for everyone."
"The priesthood is the love of the heart of Jesus. When you see a priest, think of our Lord Jesus Christ."
"The world looks to the priest, because it looks to Jesus! No one can see Christ; but everyone sees the priest, and through him they wish to catch a glimpse of the Lord! Immense is the grandeur of the Lord! Immense is the grandeur and dignity of the priest!" (Rome, Italy, October 13, 1979)
"If we had faith, we would see God hidden in the priest like a light behind glass, like wine mixed with water."
"It is not a time to be lamenting; it is a time to be rising to the challenge with courage and Christian enthusiasm." –
"The Christian must be a luminous person, who brings light, who always gives light! … A light that is not his or hers, but rather a gift from God, and a gift from Jesus. And we bring this light. If the Christian allows this light to be extinguished, his life no longer has meaning; he is a Christian by name only. It is God himself who gives us this light, and we offer it to others. Shining lamps! This is the Christian vocation".
"We need young men too, especially young men who will have the courage to say 'yes' to the call of Christ, and follow him as priests." –
"We should never lose faith in God's power to raise up women and men in every age who are living and courageous witnesses to his love. Our challenge is to have the courage and the faith to invite those we believe and who may have received that call to come forward and to discern with the Church what the Lord asks of them." –
"Do not be afraid of what God asks of you! It is worth saying 'yes' to God. In him we find joy."
Scripture Passages on Vocation, Discernment, PriesthoodDiscipleship : Call, Response
Old Testament
Gen 12:1-4 Call of Abram: Leave your country, your family, and come…
Exo 3:1-6, 9-12 Call of Moses: I shall be with you…
1 Sam 3:1-10 Call of Samuel: Speak, O Lord, your servant is listening
1 Kgs 19:16, 19-21 Call of Elisha: Elisha rose up and followed Elijah
Isa 5:6-8 Call of Isaiah: Whom shall I send? Who will go for us?
Isa 42:6-7 "I have called you…I have grasped you by the hand…To open the eyes of the blind"
Isa 43:3 "I have called you by name, you are mine
Isa 45:4 "I have called you by your name…though you knew me not"
Isa 49:1 "The Lord called me from birth, from my mother's womb he gave me my name."
Jer 1:4-10 The call of Jeremiah
Jer 20: 7-9 Response of Jeremiah: It seemed like a fire burning in my heart
Jer 29: 11-14 "I know well the plans I have in mind for you"
Hos 2:21-22 "I will espouse you in fidelity…"
New Testament
Mt 9: 35-38 The harvest is rich but the laborers are few
Mt 19: 16-30 The Rich Young Man
Mk 1:16-20 The Call of the first disciples
Mk 3:13 The Mission of the Twelve: "He summoned those whom he wanted and they came to him"
Mk 10: 17-27 Go and sell everything you own and follow me
Mk 10:28-30 You will be repaid a hundred times over
Lk 1:26-56 The Annunciation: Mary's call
Lk 14:25-33 Any who do not carry their cross and come after me cannot be my disciple
Jn 1:35-51 The call of the first disciples: "Come and see"
Jn 10:2-3 "the sheep hear his voice, as he calls his own sheep by name and leads them out"
Jn 15:9-17 You did not choose me; no, I chose you
Rm 1:6 "among whom are you also, who are called to belong to Jesus Christ"
Rm 8:28 "all things work for good for those who love God, who are called according to his purpose"
Rm 11:29 "For the gifts and the call of God are irrevocable"
1 Cor 1: 26-31 "Not many of you were wise…Rather God chose the foolish…"
Gal 1:15 "God, who from my mother's womb, had set me apart and called me through his grace"
Eph 1: 3-14 "To be holy and spotless and to live through love in His presence"
Php 3: 10-14 "to know him and the power…forgetting what lies behind…"
1 Pt 2:9-10 "God has called you out of darkness into his own marvelous light"
Discernment
Old Testament
Deu 30:19-20 "I have set before you life and death…choose life!"
Sir 15:16-17 "There are set before you fire and water."
New Testament
Mt 16:13-23 "Who do people say that I am?"
Acts 1:15-26 The choice of Matthias
Acts 6:1-6 The selection of the first deacons
Acts 13: 2-4 Paul and Barnabas selected by the Holy Spirit to go and preach
Acts 15:28 "It is the decision of the Holy Spirit and of us…"
Rom 8:14-17 "You did not receive a spirit of slavery to fall back into fear…"
Rom 12:1-2 "Do not conform yourself to this age…that you may discern"
1 Cor 2: 7-12 "this God has revealed to us…so that we may understand"
1 Cor 12:4-11 "There are different kinds of spiritual gifts but the same Spirit"
Gal 5:16-26 The works of the flesh
Eph 1: 3-14 "…In him we were also chosen…"
Eph 1:17 "a spirit of wisdom and revelation resulting in knowledge of him."
1 Jn 4:1-3 "Do not trust every spirit but test the spirits to see whether they belong to God"
Priesthood
John 13:1-14 The washing of the Disciples' feet
1 Pet 2:2-10 "Come to him…let yourselves be built…to be a holy priesthood"
Heb 4:12-16 Jesus, the compassionate high priest
Heb 5:1-10 "Every high priest is taken from among men"
Heb 10:10-17 "Every priest stands daily at his ministry"